Commitment to social justice is one of our deeply held principles. The Advocates for Social Justice connects the concerns of our congregation to the larger community, and educates our members about important issues — locally, nationally and globally. We coordinate the overall justice-making activities of the congregation, using the Unitarian Universalist (UU) Principles as our guide to action. We host talks on emergent issues in our "Hot Topics" program. We also support the UU Service Committee, UUs for a Just Economic Community, -->and additional programs and projects adopted by the Unitarian Universalist Association (UUA).
Focus Activities
Each year, the Advocates for Social Justice Steering Committee chooses three areas in which to focus our congregation's energies. Recently these have been:
Homelessness
Our commitment to the homeless includes:
Civil Rights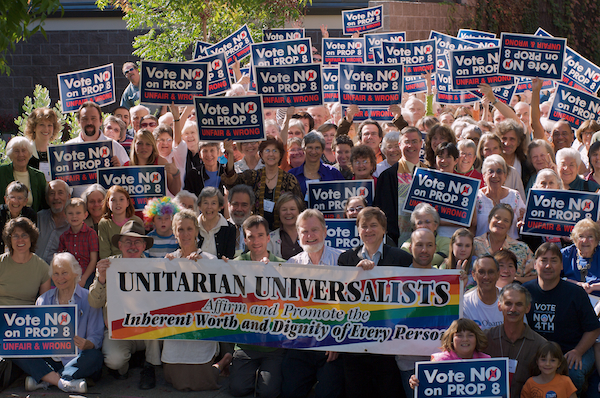 Our efforts in the arena of civil rights include:
Being a Welcoming Congregation, in which all people regardless of sexual orientation are invited to share their gifts and join us in the search for truth and meaning
Participating in countless local gay pride events
Supporting marriage equality legislation, and opposing regressive measures such as Proposition 8
Opposing discrimination in housing, employment and any other place it occurs
Our minister also performs weddings for members of the gay, lesbian, bisexual, and transgendered (GLBT) community.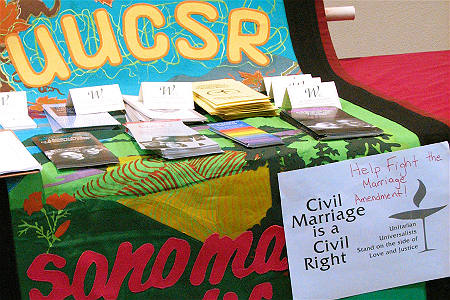 As the intensity of scapegoating minority communities increases, we are working to develop a Civilian Review Board of Law Enforcement actions, and to become a County of Refuge for immigrants being victimized by local and national government agencies.
Adrienne Swenson Award
The Adrienne Swenson Award is given annually to a local high school student, who is active in peace and social justice activities and intends to continue being an activist and is planning to pursue further education or training, either in college, trade school or university. Contact Phyllis Clement at 707-823-0925 or for further information.
North Bay Organizing Project (NBOP)
North Bay Organizing Project - Unites people to build leadership and grassroots power for social, economic, racial and environmental justice..The NBOP is currently working on:
Immigration Reform
Police Community Relations
Education
Jobs
Family Fun Night
Family Fun Night is a program held at the Catholic Charities Family Support Center, the only shelter is Santa Rosa that serves whole families. Every Friday evening from 6 pm to 7:30 pm UUC volunteers either play with the younger children or run a bingo game for older children and adults. If you are interested in participating please contact Jeanie Bates at 707-824-0530 or jeaniebmft-at-gmail.com for more information.
Share the Offering
The congregation shares half the Sunday collection basket twice each month with organizations or programs recommended by the congregation to the Advocates (A4SJ) as well as our Saturday Breakfast and The Living Room.
Additional Activities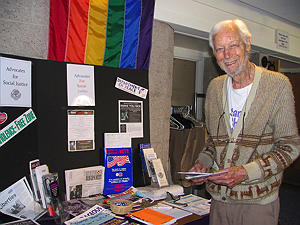 In addition to the focused activities, the Advocates for Social Justice:
Choose a local organization or program to receive one half of the collection basket on the first Sunday of each month
Circulate petitions and assist in letter writing about current political issues
Encourage voter registration and hold an educational forum on ballot initiatives before each election
Lobby local governments on issues relating to our principles
Work with the Unitarian Universality Legislative Ministry, California, our lobbying arm in Sacramento
Send delegates to justice workshops at the UU General Assemblies and UU Pacific Central District Assemblies
Support fair trade and economic justice
Collaborate with other faith communities in the Network of Spiritual Progressives
Advocate for sustainable agriculture and efforts to combat global climate change
Join the Advocates for Social Justice
Participation in the Advocates for Social Justice is open to the public. We meet the first Monday of the month at the UUCSR from 10am to 11:30am. We invite you to join us! For more information, visit our table any Sunday.
Learn More
Economic Justice • Unitarian Universalist Association

Marriage Equality • Unitarian Universality Legislative Ministry, California

Racial Justice • Unitarian Universalist Association

Standing on the Side of Love • sponsored by the Unitarian Universalist Association

UULegislative Ministry of California • one of the UU Statewide Advocacy Networks

North Bay Organizing Project • A member of Gamaliel of California

Citizens Climate Lobby • To create the political will for a stable climate.

TerraCycle • creating national recycling systems for previously non-recyclable or hard-to-recycle waste