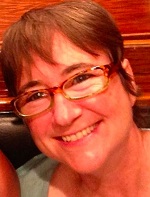 Greetings from Rev. Kathy Huff
I'm delighted to be serving as UUCSR's Sabbatical Minister from January 6 through June 23. I'm a huge fan of this vibrant and growing congregation. Your senior minister Rev. Chris Bell and I have been colleagues in the district for many years and I have long admired this splendid congregation.
The Sabbatical Committee did an excellent job planning and looking at all areas of congregational life to be sure the good work of the church continues during the sabbatical period. My ministry is just one part of what this fine group of leaders is making possible over the next six months. Be sure to look over the Sabbatical Brochure to see what's planned. I've been invited to lead worship, provide emergency pastoral care support, and work with your Intern Minister Bryan Plude as he completes his final year of student ministry. I'm also available as a resource for congregational leaders. I'm so happy to be working with the wonderful staff and lay leaders at UUCSR. With their help ours will be a fun, creative and meaningful time.
Here are a few things you might like to know about me. I am the proud mother of two amazing daughters ages 12 and 16 and have been married to the same person for 23 years. We share our home with an energetic Jack Russell, a budgie and a very old goldfish. We moved to California from Boston 12 years ago and currently live in a close-knit neighborhood outside Oakland, about 70 miles from Santa Rosa.
I earned my Bachelor of Fine Arts in Theatre from Syracuse University and a Masters of Divinity from Harvard University. After a career as a professional stage director and then as a director for a family violence shelter I felt called to ministry. I was ordained and fellowshipped in 1998, and served as the Associate Minister at First Parish in Arlington, MA. This past July I completed more than a decade of ministry at the First Unitarian Church of Oakland. I grew up in an Irish Catholic family and spent my childhood living on an island in the South Pacific (Savaii, Samoa). As an adult I lived and studied in London, Australia and Mexico.
I especially enjoy going to the theatre, watching old movies, eating vegan, and reading novels and news. I prefer working part time so I can be more with my family and support my children's many activities such as fencing, ballet, and drama and debate team. I occasionally Tweet but rarely Facebook. Pilates helps me keep my physical center while Tai Chi, Yoga and Prayer my spiritual. I like the early morning hours and usually get up before dawn to walk and meditate. I love God and gardening and an attention to both provides me with much inspiration for ministry and life.
Sabbatical is an exciting time for congregations and settled ministers. Time apart gives both opportunities to experience new ways of being. It's a time of continued growth and change with the eager anticipation of being reunited with renewed faith and creativity for the next chapter of shared ministry. I look forward to doing whatever I can to support you in keeping the church thriving during these crucial sabbatical months.
Yours in faith and love,
Rev. Kathy Huff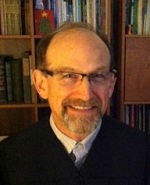 Bryan Plude - our Intern Minister
I am delighted to be your Intern Minister! I feel so blessed to have the opportunity to be with you. I have been serving and learning from you since September, 2012, and will be wrapping up my time with you in mid-June of 2014. I discovered UU about 25 years ago and have been an active member ever since. I earned my Bachelor of Arts degree from Cornell University, and masters' degrees in business and civil engineering en route to seminary. I am in a Masters of Divinity program at Starr King School for Ministry and hope to be ordained in 2015. My goal is eventually to minister to my own congregation.
Here are some things you might like to know about me. I am the father of four, two grown boys and two beautiful teenage girls. I have lived in Davis, California, for the past 16 years. Prior to that I hailed from Cleveland, Ohio. Prior to entering ministry I had careers as a pilot with the U.S. Navy and as a civil engineer working in environmental restoration. I am a passionate environmentalist.
I maintain balance in my full life through the spiritual practices of meditation, prayer, and music. I am learning to play piano, a life-long goal. I stay physically active with bicycling and walking my dog, a high energy Brittany. I enjoy all things outdoors, particularly bird watching, hiking and backpacking. I am an avid fly-fisher.
Yours in faith and love,
Bryan Plude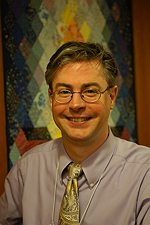 Rev. Chris Bell - on sabbatical
Hello! I'm glad you've found us here at the Unitarian Universalist Congregation, Santa Rosa. For more than a half-century, we have been serving the liberal religious community in Sonoma County, and for the last nine years we have done so from the Glaser Center, our beautiful community and artistic center in downtown Santa Rosa.
Unitarian Universalism is a non-dogmatic religious tradition that encourages reasoned inquiry, principled ethics, and service to the Earth and to humankind. We find inspiration from all the great religious traditions. Our highest values are compassion, peace, justice, freedom and equality. We see every person as a child of God, possessed of inherent worth and dignity, and we work for the day when all people see themselves as one family. We revere life, nature and love above all other things. Oh, and we really like to sing and have fun!
Worship on Sundays is the heartbeat of our community, with services filled with feeling, stirring and diverse music, opportunity for deep reflection, and meaningful preaching. We support families and children with a rich children's religious education program on Sunday mornings and childcare for the littlest ones. I'm personally delighted to help lead our thriving teen group, too.
Our ministries include a weekly breakfast for hungry people every Saturday, a speaker's series on local justice issues, artistic and cultural offerings, weddings and memorials, men's and women's groups, and a whole variety of spiritual practices and educational offerings. We are also proud to be a voice for the common good through our membership in the North Bay Organizing Project and other coalitions.
Our congregation is just one of 1000 in the Unitarian Universalist Association, a centuries-old American religious tradition. I feel very grateful to be the minister, as well as a member, of this strong and growing community. I look forward to meeting you!
Online Photo Gallery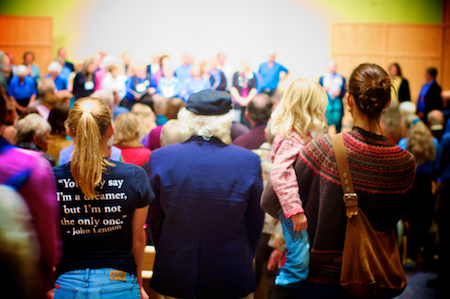 Wondering what a Unitarian Universalist congregation might be like? It's easy to find out. Just visit our online photo gallery. You'll discover the friendships, spirituality, creativity, laughter, support, determination, and varied interests that make UUCSR such a welcoming community.
Leading From Within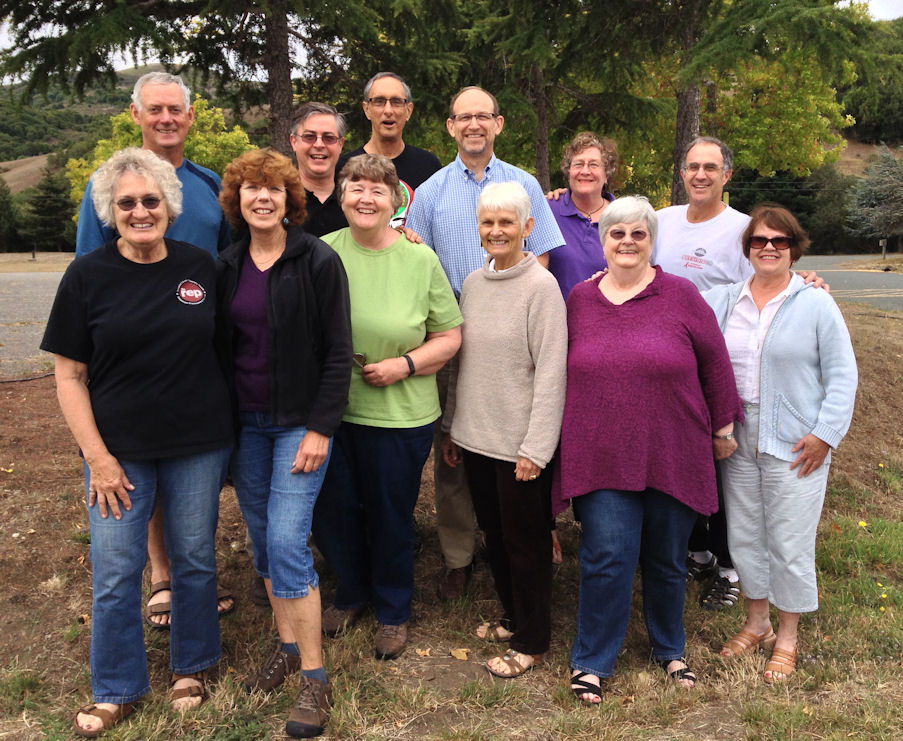 Unitarian Universalists are deeply committed to democratic process. UUCSR is led at all levels by our congregation's own members. UUCSR's elected board of trustees is responsibile for long-term management, while day-to-day decisionmaking takes place in our councils and committees. Visit the board of trustees page to meet our 2013-2014 board members.